The most successful foster caregivers understand their role goes beyond supporting the children in their care to supporting families as a whole. Foster parent Tara Adcock fully embodies the ideal that co-parenting is an essential element to providing quality parenting to the children in her care.
In February 2020, Tara received her first placement — 6-week-old Kameron, who came into Tara's care after being born prematurely with some health challenges. While Kameron's case worker was relaying information to Tara about his case, she was told to attend a virtual visitation with his mother, Vanessa, the next morning. Tara says anxiety set in on what this interaction might look like for both of them. But when Kameron's mom Vanessa answered the phone the next morning, Tara remembers all the fear leaving her body.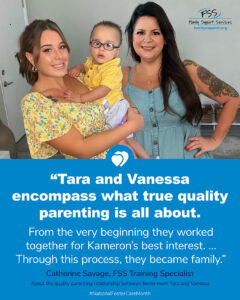 "When I saw Vanessa's beautiful face on the other side of the camera, all of my anxiety went out the window," said Tara. "A big mistake people make is this pre-notion of what they think the biological parent is going to look or act like – just being a human we tend to judge people before we know them."
Sometimes one wrong decision can change lives, break up families and have serious consequences for children or youth. Understanding that individuals are more than the sum of their mistakes or behaviors is important for moving forward, Tara says.
Co-parenting between foster and biological parents is shown to reduce trauma to the children involved. According to The Children's Bureau, ongoing relationships can help increase important social connections for children, youth, and families as well as their sense of stability and belonging. It can also provide families with extended support (e.g., someone to call when a parent needs a word of encouragement, or a babysitter) that can help prevent further child welfare involvement.
In Tara and Vanessa's case, it can sometimes blossom into life-long connections.
Tara, whose parents were divorced, feels like co-parenting has come easy to her since she knows what she wanted to receive as a child. From picking Vanessa up from her house to go to Kameron's doctor's appointments and including Vanessa on decisions for clothing worn in professional pictures to sending daily snapshots through text message, Tara wanted to make sure Vanessa always felt included. Tara says Vanessa always appreciated being included in decision making, because other people weren't always so kind to her.
Tara invited Vanessa over for Easter dinner in 2020, providing Vanessa an opportunity to bathe and put her son to bed for the first time. "It was so beautiful to watch her grow as a mother," said Tara. "My favorite part of this experience is watching her grow as a person."
Over the course of the year, Tara and Vanessa created an unbreakable bond on the way to reunification in 2021. "You know that reunification is the goal, and you want to see them reunified but it is painful to see them go," said Tara. "But I didn't lose Kameron — I gained Vanessa. She is a special part of my life and I feel like I gained a little sister. We still spend so much time together, even after Kameron reunified."
"Tara and Vanessa encompass what true quality parenting is all about," said training specialist Catherine Savage. "From the very beginning they worked together for Kameron's best interest. They were both selfless and were able to set aside feelings in a tough situation and ended up finding the common bond of their love for Kameron. Through this process they became family."
If you're interested in fostering and keeping children connected to family roots whenever possible, apply to become a foster parent today.