Like pregnancy and birth, no two adoption stories are the same. Mark and Susan Bridwell are very familiar with this, after adopting six children over the past 28 years.
When infertility stood in the way of the Bridwell's having children they turned to adoption, with their most recent adoption happening last November. Mark says they never intended on having this big of a family, but the thought of children in foster care with nowhere to go just bothered him; which is why when the family met 18 year-old Ryan they fell in love with him.
When Ryan first entered the foster care system – he was a part of a program called Tour de Trails, where teens bike across Florida. The company that Mark worked for, Rayonier, was funding the program and got to meet teens that would be participating. Mark recalls that when he met Ryan for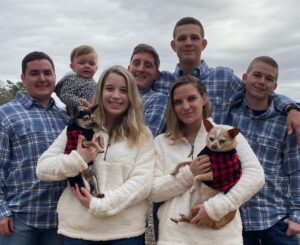 the first time, that he was a bright, well-mannered kid that was at a hard spot in his life. Seeing the potential he knew this young man could reach, his family set out on a mission to get to know him better.
"We too often assume what the foster children are like," said Mark. "We need more people that want to mentor and spend time with foster children and they would realize what an amazing person they are. Get to know the kids before you read the files – you get to hear about their experiences in their own time, in their own way."
Being an adoptive parent, isn't for the faint of heart but you can change the trajectory of a child's life.
"You can't change the kid – but you can change the outcome," said Susan. "Only you can help them see options and see the world differently, but regardless of the outcome they are better out having you then they would have been in their last situation."
Because of the love, support and family Ryan has gained through the Bridwell's, he is now attending college to become an airplane mechanic – a possibility he may have not had, before his adoption.
The Bridwell's say their piece of advice for anyone considering adoption is, "It's not about what's best for you, it's what is best for them. There are so many teenagers out there like Ryan – that empty nesters can adopt. It makes all the difference in the world for the rest of that child's life."
If you're interested in adoption, visit our website to learn more.