FSS Recognizes Dina Santos as Part of October's Foster Youth Voice Month
Congratulations to Dina Santos, one of five finalists in the 2022 Dream Tank competition! One of Family Support Services of North Florida's Youth Advisory Board leaders, Dina recently completed the Dale Carnegie Leadership Training with One Voice IMPAACT, the youth initiative within Selfless Love Foundation.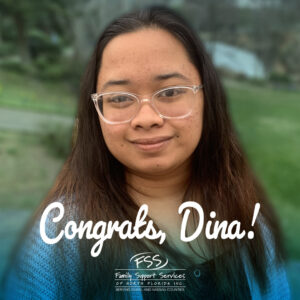 The Selfless Love Foundation's Dream Tank is an annual competition for former foster youth in Florida ages 18-23 to present their dreams and aspirations. Between now and May, Dina and the other finalists will attend monthly meetings in preparation to present an inspirational speech at the Selfless Love Gala in Palm Beach.
Each finalist has earned a $1,000 prize, with the overall winner in May receiving a $5,000 award. All expenses for travel and clothing for rehearsal and the gala weekend are provided by Selfless Love Foundation.
Dina is planning to obtain bachelor's and master's degrees in psychology. Her goal is to start a nonprofit organization in Jacksonville to provide resources for youth in care.
FSS joins Florida Coalition for Children, Selfless Love Foundation and One Voice IMPAACT in elevating voices of youth in the system of care this October. To learn more about this effort and sign the petition to elevate foster youth voices, go to: http://www.YouthVoiceNation.org.
Watch for special content on our Facebook and Instagram for opportunities to support our outstanding youth!
To learn more about supporting our transition-age foster youth and youth advisory board, contact Maria Oxford at Maria.Oxford@fssnf.org.
For media inquiries about Foster Youth Voice Month or our transition-age youth programs, contact Octavius Davis at Octavius.Davis@fssnf.org.