After more than 1,500 days in the foster care system, Carmen and Aiden are going home. The teen siblings officially became part of Amy and Christopher Standard's family during Family Support Services' adoption finalization event on Friday, May 12, 2023 — just in time for Mother's Day. The teen siblings were two of 16 children whose adoptions were finalized into eight families on Friday, with gift bags and bouquets for the families, stuffed bunnies for the children donated by Lavender Life Co., and a reception featuring a candy buffet and roses donated by Guardian ad Litem First Coast.
Action News Jax, First Coast News and News4Jax took time to cover the Standard family's story and Friday's ceremonies, highlighting the tremendous importance of having "someone to walk through life with," no matter how old you are.
For complete coverage of the adoption event from each local outlet, click the links below. To learn more about changing a life through adoption from foster care, click here.
(Updated May 18, 2023 to add News4Jax video link)
Action News Jax, May 12, 2023 broadcast: The president of Family Support Services said these adoptions are special for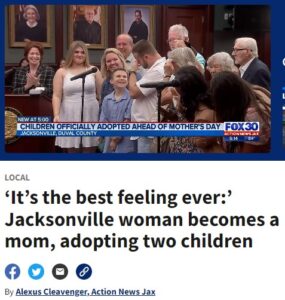 all ages but for teens, it can make a huge difference in their lives. "Kids still need families even when they are adults, for them it means they have someone to walk through life with, it's not about just parenting them until their 18, it's about that forever," Jenn Petion, the family support services CEO & president said.
Click here to watch the video and see the story from Alexus Cleaveneger, Action News Jax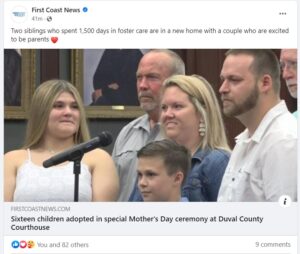 First Coast News, May 12, 2023 broadcast: For Amy Standard, this Mother's Day is special. It's her first one as a mom, and she'll be spending it with the children she and her husband Christopher adopted Friday: 14-year-old Carmen and 11-year-old Aiden. "I highly recommend anybody adopting older," Amy said. "I promised I wasn't going to cry, but yes, it's the best feeling ever."
Click here to watch the video and see the story from Cheyenne Cole, First Coast News
Positively Jax – News4Jax May 12, 2023 broadcast: "Ever since they moved in, we've had to learn a lot," says Christopher Standard of going from a couple to parents of two teenagers. "But it's been a wonderful experience and I would not trade it for anything." Click the link above to watch the full segment from News4Jax.
For media inquiry about this or other Family Support Services events, email Chanel Martin.